ELORA MEWS: Unique Shops by the Elora Gorge in Elora Ontario Canada - 45 West Mill Street, Elora
Unique Shopping in Grand Surroundings
The shops and eateries in the ELORA MEWS courtyard are a favourite destination in the historic village of Elora Ontario Canada. Located at 45 West Mill Street, steps from the Elora Mill and the spectacular ELORA GORGE.
You'll love shopping year-round in the wonderful setting and atmosphere of the Elora Mews, within a lantern-lit courtyard and old limestone walls.
ELORA is a designated tourist area and year-round destination. Our shops are open on Sundays and Holidays.
ELORA is the Perfect Place to Shop for Special Gifts
VISIT THE SHOPS & SHOPKEEPERS IN THE ELORA MEWS
Our independent retailers always have something new and unusual in store for you.
The Chanticleer Shop has just the right finishing touches for you and your home, in a warm traditional style. Visit their beautiful store in the Elora Mews courtyard, 45 West Mill Street, in downtown historic Elora. (Unit 9) 519-846-8796
ARIA Boutique, an exciting new store for women's clothing, opened in July 2016 in the Elora Mews - at 45 West Mill Street. Fashionable and stylish brand-name apparel and accessories selected for you by Lesley Magnus of Elora. A great place to shop for the perfect outfit for casual, work, or dressy occasions. (Unit 8) 519-846-0404
The unique ReFIND Salvage boutique opened in June 2015 in the Elora Mews - 45 West Mill Street, near the Elora Mill. The place to find unique vintage items, refinished vintage furniture, creative handmade crafts and goods, and Annie Sloan Chalk Paint and supplies. (Unit 7) 226-979-2668
Seasons Home and Gift shop in the Elora Mews at 45 West Mill Street opened in October 2015. Offering a large unique selection of home decor and seasonal decorations with a touch of modern country, an inspired selection of gifts for all occasions, and the Hatley line of quality Canadian clothing for adults and children (Unit 6) 226-369-0196
Aria for Him, Elora's new specialty shop for men, opened in the Elora Mews in October 2020, offering a collection of men's apparel and accessories, gifts and novelty items. (Unit 5) 519-846-1747 Right across the courtyard from the Aria boutique for women.
The Elora Beauty Bar opened in the Elora Mews courtyard in October 2017, offering custom manicures and pedicures with very talented and personal service, in a soothing and relaxing environment. Now offering facials too. (Unit 4) 519-846-5757
The Lost & Found Cafe, a cozy real coffee house with great atmosphere and delicious food, opened in the Elora Mews at 45 West Mill Street in June 2016. New owner-barista in 2021 Emma Smith serves a delectable variety of hot and cool drinks, breakfast, lunch, snacks and sweets, many original house specialties. (Unit 3) 226-384-5400
Remi's Place is our popular restaurant serving a large variety of ice cream and frozen yogurt, and fast foods from the grill - hamburgers, hot dogs, onion rings and French fries. (Units 1&2) 519-846-8442
In warm weather, relax at our outdoor patio in the Elora Mews courtyard.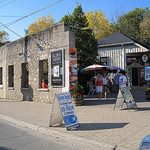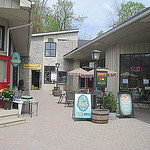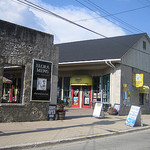 ELORA is Picture Perfect
Experience Elora our historic limestone village streets, the Grand River, the Elora Gorge, and the Elora Mews courtyard shops and café. View, save and share our beautiful photos of Elora Gorge and scenes of Elora Festival Days on the Grand River, in Elora Mews and on Mill Street.
Elora's downtown has been revitalized in 2017-2020. Enjoy our new Mill Street streetscape and bridges! New pictures will be added soon.
"Fall In Love With ELORA": Directions & Tourist Information
Plan your next special weekend getaway, company retreat, family celebration or special event in Elora. Unique accommodations and venues in scenic surroundings, Elora Music Festival concerts, unique shops and galleries, artist studio tours and adventure in the Elora Gorge. For Driving Directions click here
Elora's spectacular setting has been featured in many books and movies, and has attracted many famous musicians to perform at the Elora Music Festival's concerts in various venues, with certain performances recently available online.
---
What's NEW in ELORA?
Our News Page is updated from time to time. Elora is always a popular visitor destination, for its beautiful scenery, cultural events, and unique shops and restaurants. During the 2020-21 pandemic, shops and restaurants have opened their doors to customers as allowed and with safety in mind, offering many choices for shopping, take-out or curb-side, online shopping and shipping. Pedestrian-only summer weekends on Mill Street and Metcalfe Street - a European atmosphere - have been very popular with visitors to Elora. Indoor dining from July 19, 2021,
---
RETAIL SPACE with Character in the ELORA MEWS, 45 Mill Street West, in Historic Downtown Elora
A very special retail location, the Elora Mews is central to the tourist district in the heart of Elora Ontario Canada, located on busy Mill Street West, lined with picturesque restored historic stone buildings along the Grand River. The entrance to the courtyard of the Elora Mews, on the North side of Mill Street, is just steps from the Elora Mill Hotel and faces Elora's Pedestrian Bridge over the Grand River, restored and re-opened in 2019..
For retail store locations, history of the buildings, and leasing information, click on any unit on the ELORA MEWS MAP.
---
Contact us
Please contact the Shopkeepers for shopping information.
For leasing and property management questions, please contact the Owner.