Elora Mews Shops -UNIT 4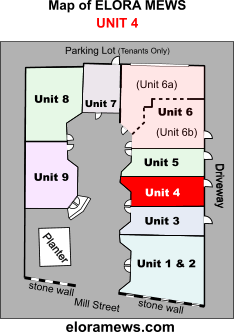 A boutique offering a unique variety of home decor and seasonal decorations, with a touch of country for the modern home.
486 sq. ft. retail space + loft office/storage.
This very attractive, spacious high-ceilinged shop has a huge show-window very visible from the Mill Street entrance to the courtyard, as well as from the outdoor café seating area.
The high walls and sunny interior create a very open yet cozy shop, ideal for a specialty boutique.
Features include:
Loft space with large office area, plus an additional storage room
Self-contained washroom in back of shop
Gas heater, air conditioner
Track lighting

C

arpeting throughout
Back door to driveway and parking lot
One tenant parking spot
Space for hanging shop sign on courtyard lamp standard
All the units have standard, long-term 2-5 year leases. Rent includes property and business taxes, as well as property insurance for the building structure, maintenance and management of the outside building and property. The tenant is responsible for insuring and maintaining their own unit, repairing and servicing all their mechanical equipment, and paying for the individually metered gas and electricity for the unit.
---
•
UNIT 1-2
•
UNIT 3
•
UNIT 4
•
UNIT 5
•
UNIT 6
•
UNIT 7
•
UNIT 8
•
UNIT 9
•
---