Elora Mews Shops - Location - UNIT 9
45 Mill Street West, Elora
This beautiful store offers a great selection of wonderful "Finishing Touches" - for your home, for you, and for special gifts - in a colourful, warm, traditional style. Unique artwork, accent furniture pieces, home decor, jewellery and fashion accessories.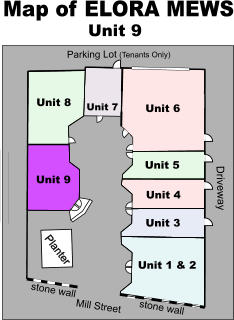 896 sq. ft. retail space
This spectacular high-ceilinged retail space is in a 1988 addition to the original Elora Mews buildings, wrapping around the courtyard to a planter and patio area inside the entrance to the Mews. The unit has several huge show windows visible from the courtyard and from the other shops.
The front entrance to the store, right in front of the planter and café seating area, is very visible and accessible from the Mill Street West shopping street and from the Grand River viewing area directly across from the entrance to the Mews courtyard.
Other Features of this retail space:
Many huge show windows
Gas Heater , airconditioner
Washroom
Parking space at rear of building (for tenants only)
Very visible signage and entrance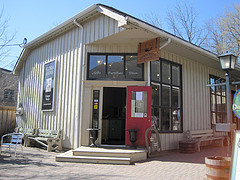 All the units have standard, long-term 2-5 year leases. Rent includes property and business taxes, insurance coverage, maintenance and management of the building structure and property. The tenant is responsible for insuring and maintaining their own unit and paying for the individually metered gas and electricity for the unit.