Elora Mews - UNIT 5
45 Mill Street West, Elora Ontario
JEZEBELS Vintage Shop
515 sq.ft. street level space + loft office/storage area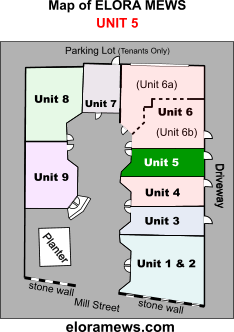 This bright unit's high ceilings, huge windows, and beautiful pinewood floors create a spacious and warm ambiance - ideally suited to a unique boutique style retail shop. Located in the Elora Mews lovely lantern-lit courtyard of unique shops - within century-old stone walls - at 45 West Mill Street in the heart of historic downtown Elora.

Unit 5 has over the years been home to a craft and gift shop, a clothing boutique, and a designer gallery.
Features:
High ceiling
Huge show windows
A loft office/storage space
Beautiful flagstone floor at entrance
Thick pine board floor (recently re-finished)
Storage or fitting room (street level)
Self-contained washroom
Gas heater (new March 2013)
Back door to driveway
Tenant parking spot at rear of building
All the units in the shopping centre have standard, long-term 2-5 year leases. Rent includes property and business taxes, as well as insurance coverage, maintenance and management of the outside building and property. The tenant is responsible for insuring and maintaining their own unit, repairing and servicing all their mechanical equipment, and paying for the individually metered gas and electricity for the unit.
---
•
UNIT 1-2
•
UNIT 3
•
UNIT 4
•
UNIT 5
•
UNIT 6
•
UNIT 7
•
UNIT 8
•
UNIT 9
•
---