ELORA MEWS Shopping Centre - Retail Stores
45 Mill Street West, Elora, Ontario
The Elora Mews is a prime, high traffic retail location in the scenic, historic and artistic Ontario village of Elora
Centrally located on Mill Street West, Elora's historic street along the Grand River, just steps from the Elora Mill, by the Elora Gorge.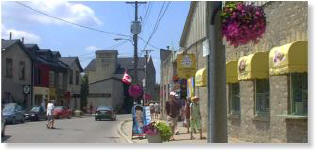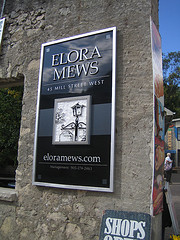 The Elora Mews is a prime, high traffic retail location in the scenic, historic, and artistic Ontario village of Elora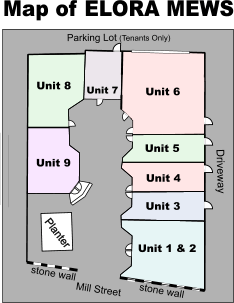 The Elora Mews shopping centre is a captivating destination year-round. Centrally located in the beautiful historic Ontario village of Elora at 45 Mill Street West, on the North side of this favourite shopping street, facing the Grand River lookout and piers of the old pedestrian bridge. The Elora Mews lantern-lit courtyard within old stone walls is a wonderful place to explore unique boutiques and independent retail stores, to enjoy the popular ice cream shop and fast food restaurant and relax on the outdoor patio.
The thick limestone wall façade along Mill Street West, remaining from the 19th century Mundell Furniture Factory, gives the Elora Mews property much distinctive character, as does the two-storey solid limestone building at the back of the courtyard, which formerly housed the 19th century Blatchford Organ Factory. A mid 1950s fire on Elora's Mill Street left only today's stone walls standing, but in 1978 the original wing of shops was built within the restored stone walls, extending from today's ice cream shop fronting Mill Street to the 2-storey building at the back. Another wing was added in 1988 to wrap around the left side of the courtyard, creating an additional 2 retail stores and an outdoor patio and seating area around a tree and planter, with a view onto Mill Street and the Grand River lookout through the "windows" in the old stone wall.

Together, the independent and creative shopkeepers in the Elora Mews create an exciting retail environment within these walls, offering a unique shopping experience and exceptional personal service.
For information about the location of the individual shops, and the special features of each retail unit, click on the "Map of Elora Mews" above. From time to time, due to the changing needs of some of our merchants, a space becomes available for lease.
All the retail units have 2-5 year standard leases. The rent includes property and business taxes, as well as insurance and maintenance of the building structure and property. Tenants pay their own utilities and are responsible for insuring and maintaining their own units. The Elora Mews has been owned, developed and managed by Renee Makino since 1982.
For further leasing and property management information, call (905) 274-2463 or contact the owner.