Elora Mews Shops - Location - Unit 3
45 West Mill Street, Elora, Ontario
The Lost &Found Cafe - Opening Spring 2016!
479 square feet of retail space + loft
This very attractive space, with high ceilings and show windows, gorgeous reclaimed wood floors and staircase, is located right near the entrance of the Elora Mews courtyard of shops and faces the planter and outdoor café seating area.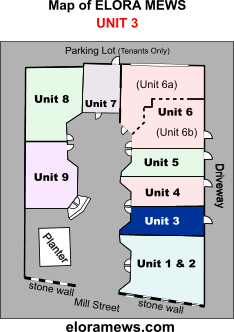 FEATURES:
Huge show windows and high ceilings.
A loft area at the back of the shop
Self-contained washroom
Gas heater & air conditioner
Beautiful flooring and staircase of reclaimed wood with wrought iron railings, crafted and installed in 2005 by Vintage Woodcraft.
Back exit to driveway for deliveries
Tenant parking spot at rear of building
UNIT 3 IN THE ELORA MEWS, 45 MILL ST. WEST, ELORA
View from upstairs loft down to retail floor and storefront onto courtyard.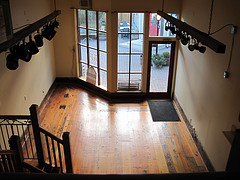 All the units have standard, long-term 2-5 year leases. Rent includes property and business taxes, and insurance coverage, maintenance and management of the building structure and property. The tenant is responsible for insuring and maintaining their own unit, repairing and servicing all their mechanical equipment, and paying for the individually metered gas and electricity for the unit.
---
•
UNIT 1-2
•
UNIT 3
•
UNIT 4
•
UNIT 5
•
UNIT 6
•
UNIT 7
•
UNIT 8
•
UNIT 9
•
---