Elora Mews Shops - Shopping Directory
45 West Mill Street, Elora, Ontario
Elora Mews is the Perfect Place to Shop for Special Gifts!
Shop year-round at the unique specialty shops in the enchanting Elora Mews courtyard at 45 Mill St. West, near the Elora Mill and the spectacular Elora Gorge. You'll love the atmosphere, the personal service and the prices..
Historic downtown Elora is a designated tourist area, with a BIA. Our shops are open on Sundays and Holidays!
---
CHANTICLEER Shop
Owner Paula Armstrong Marskell has a flair for design and colour, in a warm traditional style, and many unique accessories to complement your personal decor and fashion style. From antique shelves to lamps, bird cages, decorative trays and boxes, statues, pillows, accent furniture, mirrors and artwork for your home, to fashion accessories for you. Paula is a big collector of rooster art and artefacts.

Elora Mews, Unit 9, 45 Mill St. West, Elora, 519-846-8796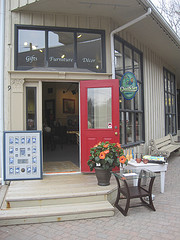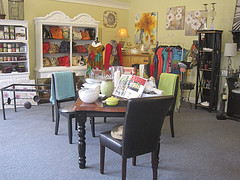 ---
ARIA Boutique (2016) Women's Clothing Store
Owner Lesley Magnus grew up in Elora. After many years in retail, she has opened her own beautiful boutique in the Elora Mews at 45 West Mill Street, featuring great brands in fashionable and stylish women's apparel and accessories. Her collection will ensure that you'll find something for a casual weekend, the perfect outfit for work, and for that special dressy occasion. With accessories to match.
Elora Mews, Unit 8, 45 Mill St. West, Elora, 519-846-0404
---
ReFIND Salvage opened their unique boutique in June 2015 in the Elora Mews at 45 West Mill Street, near the Elora Mill.
Be inspired by owner Mandy Morrison's unique finds and her beautifully restored, refinished, repurposed and upcycled furniture pieces and vintage items. ReFIND Salvage is an official distributor of Annie Sloan Chalk Paint™ and decorating supplies. Inquire about Mandy's workshops for your do-it-yourself projects.
Elora Mews, Unit 7, 45 Mill St. West, Elora 226-979-2668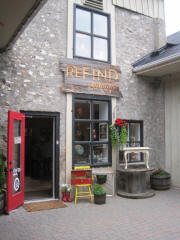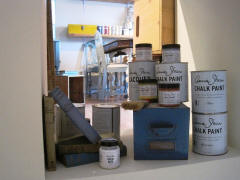 ---
Jezebels is a beautiful and elegant antique store, opened in the Elora Mews in July 2015. Owners Carol and Mark are long-time experts in vintage jewellery and vintage chandeliers, and choice antique furniture pieces, mostly from estate sales.
Their wonderful spacious retail store, located in a lantern-lit courtyard of shops within the old stone walls of a former furniture factory, gives them the opportunity to display a wide selection of their jewellery, art glass, wood and upholstered furniture, accessories and decor, and high-quality stylish vintage furs and fashions.
Elora Mews, Units 6 & 5, 45 Mill St. West, Elora 226-384-3838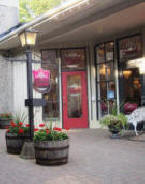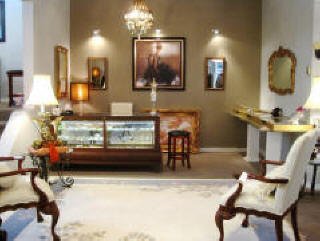 ---
Seasons Home Decor Shop opened in the Elora Mews in October 2015. Owner Aileen Jenkins offers a unique variety of home decor and seasonal decorations, with a touch of country for the modern home. She specializes in inspiring and fun signs for every occasion and is an exclusive retailer of Crabtree & Evelyn products.
Elora Mews, Unit 4, 45 Mill St. West, Elora 226-369-0196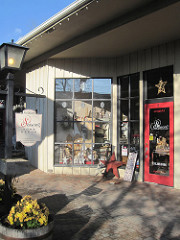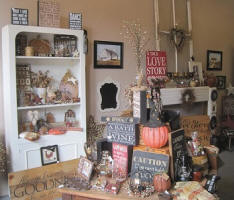 ---
The LOST & FOUND Cafe (2016) Coffee House & Restaurant
This new cozy coffee house with great atmosphere and delicious food opened in June 2016 in the Elora Mews, to rave reviews. Owner-baristas Amanda and Kayla serve an amazing and original variety of hot and cool drinks, breakfast and lunch dishes, snacks and sweets, many of their own creation. With an emphasis on fair-trade, organic, and locally sourced.
Elora Mews, Unit 3, 45 Mill St. West, Elora 226-384-5400
---
REMI'S Place (2012) Ice Cream Shop & Fast Food from the Grill

A visit to Elora isn't complete without a relaxing stop for 59 varieties of ice cream and frozen yogurt and fast food from the grill. The place in downtown Elora for hamburgers, hot dogs, onion rings and french fries. Look for the red awnings on the North side of Mill Street, across from the Grand River lookout. (formerly Jenny's Place)

Elora Mews, Units 1-2, 45 Mill St. West, Elora 519-846-8442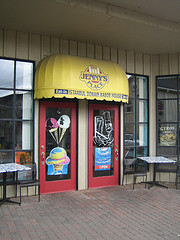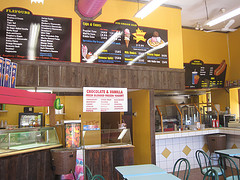 In warm weather, relax and enjoy the outdoor patio in the courtyard.

---
---
· SHOPS · REMI'S · SEASONS · JEZEBELS · REFIND · CHANTICLEER ·
---