Telephone: 226-369-0196
Seasons Home Decor is a new boutique of seasonal decor, with a touch of country for the modern home. Located in the lantern-lit Elora Mews courtyard, within the old stone walls of 45 West Mill Street, in the heritage district of the village of Elora, Ontario, near the Elora Mill.
Owner Aileen Jenkins opened her retail shop in October 2015, after many years in the home decor and giftware business. Her shop was transformed from Fall colours in October, with many unique items for home decorating for Thanksgiving and Halloween, to a Christmas holiday feeling in November, with many wonderful decorations, ornaments, decorating ideas and items for holiday entertaining and gift-giving.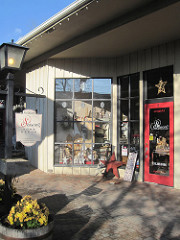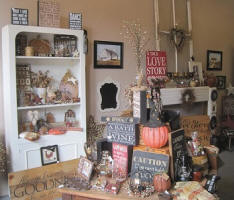 Aileen says: "Your home is your sanctuary, where you go to unwind from all of the day's events. Let us at SEASONS help you express your style with new and exciting products."
Walk around Aileen's shop and discover just the right sign among her extensive collection of decorative signs with unique, humorous, and often inspiring messages, for every kind of person and occasion, room in your home, or in your office.
SEASONS Home Decor carries the Crossroads line of fine candles and room scents and is an exclusive retailer for the Crabtree & Evelyn line in Elora.
Aileen loves dogs and is involved with an organization which finds new homes for rescued dogs. You may meet one of her "shop dogs" when you visit her store, and find the perfect gift for a dog lover here.
SEASONS Home Decor
Elora Mews, Unit 4
45 Mill Street West
Elora, Ontario, Canada
---
· SHOPS · REMI'S · SEASONS · JEZEBELS · REFIND · CHANTICLEER ·
---