---
Experience the beauty and creative atmosphere of the village of Elora, Ontario!
Enjoy walking along the village of Elora's historic main streets of beautifully restored limestone buildings along the scenic Grand River and Elora Gorge - a relaxing atmosphere in which to explore our unique owner-operated independent specialty shops and galleries.
The retail landscape is always changing, so come into town and see what's new!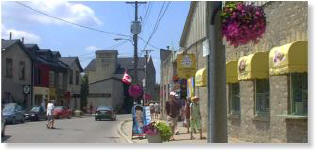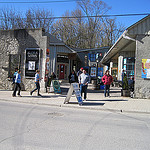 Historic downtown Elora is a designated tourist area with a business association (BIA).
Elora's Shops are open on Sundays and Holidays!
You'll love shopping at the charming shops in the ELORA MEWS courtyard at 45 West Mill Street, centrally located in Elora's tourist district. Be inspired by the wide range of truly unique gifts for your home and the special people in your life, and enjoy a personalized shopping experience.
We have some exciting new stores in the Elora Mews, so be sure to visit and explore our shops in the courtyard.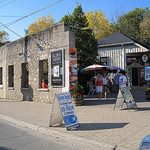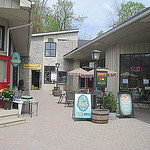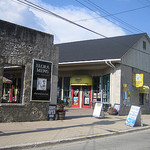 Discover what our creative shopkeepers have in store for you! Contact your favourite shop (see below) about special sales and new merchandise in store. Some of the shops have special customer newsletters, so make sure you're on their mailing list.
---
THE CHANTICLEER SHOP (since 2010)
This beautiful store in the Elora Mews courtyard always has new perfect finishing touches for your home, for you, and for special gifts. New since 2015 is a unique collection of wall art, suitable for any decor, and beautiful prints and paintings of Elora scenes and landmarks.

Owner Paula Armstrong has a flair for design and colour, in a warm traditional style, and many unique accessories to complement your personal decor and fashion style. From antique shelves to lamps, bird cages, decorative trays and boxes, statues, pillows, accent furniture, mirrors for your home, to fashion accessories for you. Paula is a big collector of rooster art and artifacts, some of which you will find in her store.
Elora Mews, Unit 9, 45 West Mill St., Elora, Ontario 519-846-8796
---
ARIA BOUTIQUE - NEW Women's Clothing Store! (July 2016)
After more than 20 years in retail, Lesley Magnus, who grew up in Elora, has just opened her own beautiful women's clothing shop - in the Elora Mews at 45 West Mill Street in historic downtown Elora.

Featuring great brands in fashionable and stylish women's apparel and accessories. Her collection will ensure that you'll find just the thing for a casual weekend, the perfect outfit for work, and for those special dressy occasions. With a wide range of accessories for that put-together stylish look.
Elora Mews, Unit 8, 45 West Mill St., Elora, Ontario 519-846-0404
---
ReFIND SALVAGE Boutique (since 2015)
Mandy Morrison opened her retail shop in the Elora Mews, at 45 West Mill Street, near the Elora Mill, in June 2015. This is the place to find her beautifully restored, restyled, and refinished furniture, creatively crafted decor and a full line of Annie Sloan Chalk Paint™ for your own projects.
Mandy also offers decorating workshops in her nearby studio.
Elora Mews, Unit 7, 45 West Mill St., Elora, Ontario 226-979-2668
---
JEZEBELS Antique Store - Expanded in 2016!
This beautiful, elegant, and spacious antique store opened in the Elora Mews, at 45 West Mill Street, near the Elora Mill, in July 2015. Owners Carol and Mark are experts in vintage jewellery and vintage chandeliers, and fine antique furniture pieces, mostly from estate sales. Here you'll find a wonderful selection of jewellery, art, glass, wood and upholstered furniture, accessories and decor, and high quality stylish vintage furs and gowns.
Elora Mews, Unit 6 & Unit 5, 45 West Mill St., Elora, Ontario
226-384-3838
---
SEASONS Home Decor Shop (Since 2015)
Aileen Jenkins' new shop in the Elora Mews, at 45 West Mill Street, near the Elora Mill, opened in October 2015. Here's where to find a unique variety of home decor and seasonal decorations, with a touch of country, for the modern home. Many unique gift ideas! Aileen specializes in inspiring and fun signs for every occasion.
She is an exclusive retailer of the Crabtree & Evelyn product line.
Elora Mews, Unit 4, 45 West Mill St., Elora, Ontario 226-369-0196
---
The LOST & FOUND CAFE - NEW Coffee House & Restaurant!
This new cozy coffee house with great atmosphere and delicious food opened in June 2016 in the Elora Mews courtyard of shops - at 45 West Mill Street, in historic downtown Elora - to rave reviews.

Owner-baristas Amanda and Kayla serve an amazing and original variety of hot and cool drinks, breakfast and lunch dishes, snacks and sweets, many of their own creation. With an emphasis on fair-trade, organic, and locally sourced.
Elora Mews, Unit 3, 45 West Mill St., Elora, Ontario 226-384-5400
---
REMI'S PLACE Ice Cream Shop and Fast Food from the Grill
Owned and operated by the Jalili family (Since 2012)
(formerly Jenny's Place)
Elora's favourite ice cream shop is famous for serving almost 60 flavours of ice cream, frozen yogurt, gelato and other treats, cool drinks, chunky fries, onion rings, and delicious burgers from the grill.
Elora Mews, Units 1-2, 45 West Mill Street, Elora Ontario
519-846-8442
The outdoor patio in the courtyard is open on warmer days.
---
Elora Annual Festivals and Events
The famous ELORA MUSIC FESTIVAL of classic and contemporary music, a glorious summertime tradition, is celebrating its 37th year in Summer 2016, with performances in exceptional venues in the village of Elora Ontario. The Elora Festival Singers also perform year-round in various other locations. 519-846-0331.
---
The ELORA-FERGUS STUDIO TOUR, a self-guided tour of local artists' studios, is a very popular event with a more than 20-year tradition in the artistic communities of Elora and Fergus. (In 2015, artists opened their studios on the weekends of September 26 & 27 and October 3 & 4.)
---
The annual award-winning SENSATIONAL ELORA Festival of the Senses offers a varied series of events in and around the historic village of Elora Ontario, featuring Elora's art, music, film, theatre, local food and culinary events such as "Moveable Feast", "Film on a Plate", "Sensational Soup-Off", "Empty Bowls & Glasses" and other family activities. 519-846-5638
---
October is MONSTER MONTH in the Village of Elora, a magical time and tradition for discovering and admiring the ghostly creatures hanging around Elora's streets, created from wire and gauze mache and inspired by Tim Murton, local Elora artist and creator of magical monsters since 1996.
The ELORA MONSTER MARCH COSTUME PARADE is an annual event on a Saturday evening before Hallowe'en, marching from Elora's Town Square down Metcalfe Street.
---
Historic Downtown Elora is a magical place to do your Christmas Shopping, especially on "Starlight Shopping Nights" (shops were open until 10pm on November 26 & 27 in 2015). Elora's Santa Claus Parade is also an annual evening event which "Lights Up the Night".