Phone:
519-846-8442
Remi's Place, Elora's favourite ice cream shop
A visit to Elora isn't complete without a relaxing stop for ice cream, cool drinks, a specialty home-made donair or vegetarian meal, at REMI'S PLACE (formerly Jenny's Place) ice cream bar, café and grill.
The restaurant and outdoor café are centrally located at the entrance to the Elora Mews courtyard, directly across the lookout over the Grand River, and half-way down Mill Street West to the Elora Mill Inn, lookout over the Tooth of Time and the Elora Gorge. In summertime, outdoor tables inside the courtyard against the old stone wall create a European café atmosphere.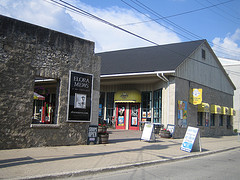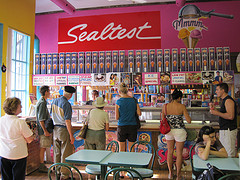 There has been an ice cream shop in this location since the early 1980's.
In May 2012 Ramin and Remi Jalili and their sons became the new owners of this popular ice cream shop and grill in the Elora Mews on Mill Street West, right in the centre of Elora's historic tourist district.

Remi's Place is famous for their many varieties and flavours of ice cream, frozen yogurt, cool drinks, and donairs, burgers, hot dogs and fries from the grill.
The ice cream bar offers as many as 60 flavours of premium ice cream and frozen yoghurt, from fat free to decadent! Indulge!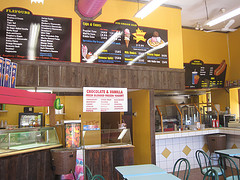 The Elora Mews, Units # 1&2
45 Mill Street West
Elora, Ontario N0B 1S0
---
· SHOPS · REMI'S · SEASONS · JEZEBELS · REFIND · CHANTICLEER ·
---