Elora Mews Shops - UNITS 1 & 2
Remi's Place
(since 2012)
(formerly Jenny's Place)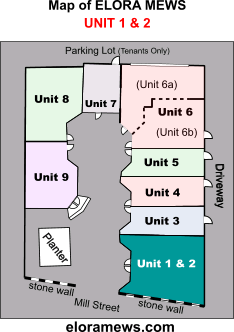 This restaurant serves 60 varieties of premium ice cream and frozen yoghurt. A full open grill menu includes chicken and beef donairs, hamburgers, chunky fries, and other fast foods.
987 sq. ft. restaurant space
Formerly 2 separate units, extensive renovations were done in 1994, to create a very large open, high ceiling selling, seating, and food preparation area, with double entrance doors from the courtyard.
A central rooftop HVAC and venting system installed at that time permit the operation of an open grill kitchen and a premium ice cream/frozen yoghurt bar within the same facility.
This space has tremendous visibility all along Mill Street, with its original limestone walls and windows, and with awnings and signage on the street. These windows in the thick stone walls, as well as huge windows facing the courtyard planter area, create much light and visibility inside the restaurant. Inside the courtyard, the restaurant is able to use the outdoor planter seating area for an outdoor cafe in summertime.
The units have 2 washrooms, and a large upstairs storage area.
A tenant parking space is available at the rear of the building.
---
· UNIT 1-2 · UNIT 3 · UNIT 4 · UNIT 5 · UNIT 6 · UNIT 7 · UNIT 8 · UNIT 9 ·