Elora Mews Shops - Location- UNIT 7
45 West Mill Street, Elora, Ontario
ReFIND SALVAGE Boutique & Studio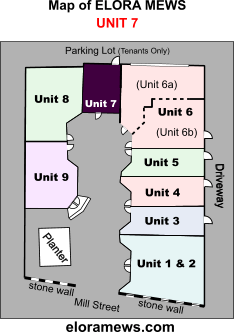 This 2-storey unit, very visible in the centre of the Elora Mews courtyard, is now the home of a unique home decor shop, featuring restored, refinished, repurposed and upcycled furniture pieces and vintage items, and decorating supplies. The upstairs studio is used for both refinishing work and decorating workshops.

Thick stone walls on the outside, and exposed stone walls on the inside of this century-old building, give this building and shop a great deal of character and atmosphere, and interesting display features.

323 sq.ft. street-level retail space & approx. 345 sq.ft. upstairs studio and storage space

This unit has gas heat. Self-contained washroom.
Show windows at courtyard level and upstairs facing courtyard.
Back exit to parking lot. Tenant parking space.
---
•
UNIT 1-2
•
UNIT 3
•
UNIT 4
•
UNIT 5
•
UNIT 6
•
UNIT 7
•
UNIT 8
•
UNIT 9
•
---